Blox Fruits: "Unknown Being Being Has Entered World"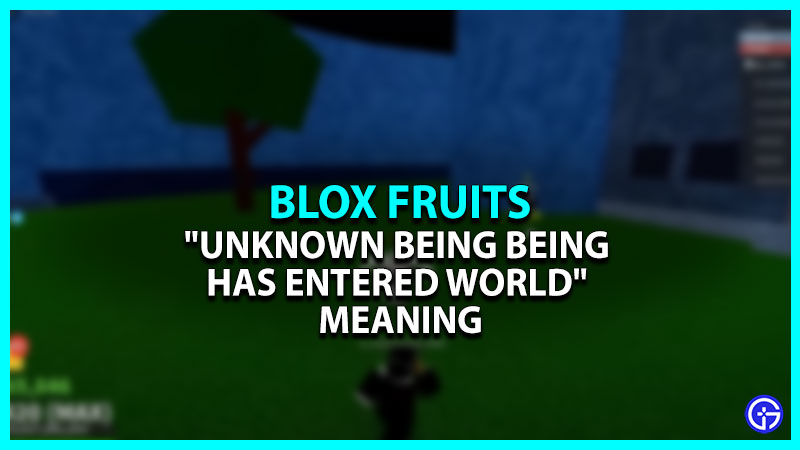 There is a special Messaging System in Blox Fruits that notify players about the happenings in the world. In this One Piece-based Roblox experience, there are countless instances like Raid Bosses, the addition of a player, quest dialogues, event messages, etc that is displayed. One such message that confuses the players in Blox Fruits is "An Unknown Being Has Entered The World." So, what does this message actually mean? If you are wondering the same thing, then this guide is all you need. Read till the end to know about this message.
What does "An Unknown Being Being has Entered the World" mean in Blox Fruits
In Blox Fruits, the message "An Unknown Being Being has Entered the World" means a Soul Reaper just appeared. For those who don't know, a Soul Reaper spawns at the Haunted Castle in the Third Sea. A Soul Reaper is a level 2100 Boss that has the ghastliest weapon, a Hallow Scythe. He is one of the toughest bosses to beat in this game. However, defeating a Soul Reaper guarantees precious rewards like a Holy Crown, Bones, and Hallow Scythe.
Now that you know what "An Unknown Being has Entered the World" mean, here are some other messages and their meaning:
"The Saw has spawned! You have 15 minutes to defeat him and possibly get a rare reward!"

This message is displayed when the Saw (boss), appears at Middle Town, First Sea.

"Loud tremors are being heard across the seas.."

Shows up when Greybeard (boss) spawns at the Marine Fortress in First Sea.

"The power of Darkness has been unleashed."

Whenever a Darkbear (boss) shows up at Dark Arena, Second Sea, players get notified by this message.
That covers everything about the "An Unknown Being Being has Entered the World" message in Blox Fruits. While you are here, make sure to check out our other guide on Best Fruits For Grinding In Blox Fruits.