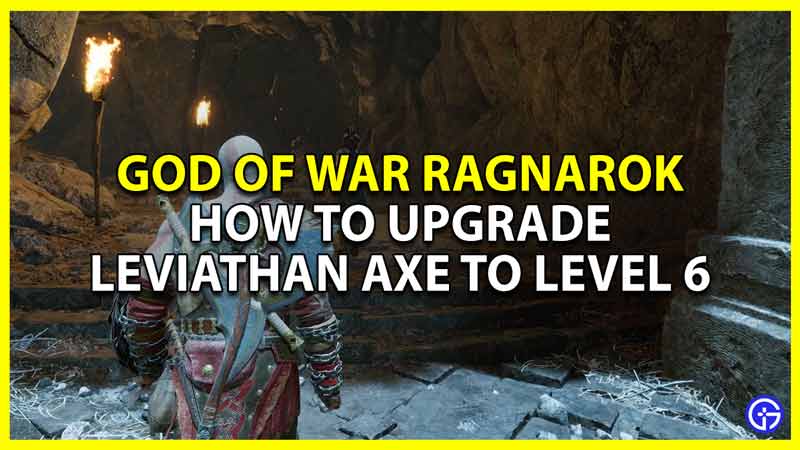 Many God of War Ragnarok players are unable to upgrade their Leviathan Axe to level 6. This is because you need to find Frozen Flame which is a must-have when upgrading it. And not knowing the locations where you can get them from, can be really frustrating. So in this guide check out how to Upgrade Leviathan Axe to Level 6 in God of War Ragnarok and later max it to Level 9.
How to Upgrade Leviathan Axe to Level 6 in God of War Ragnarok
You can upgrade your Leviathan Axe to Level 6 by simply collecting Frozen Flames from the main story of the game. Frozen Flames are the important material you will need, without which you cannot upgrade it. You can find it throughout the Nine realms. If you are worried about having to look every nook and corner then worry not, you should find a good number of them from various boss fights. Here are all the ones that drop Frozen Flames during the main story of the game:
The Huntress: You can find her in the Upper Wildwoods during the first chapter Surviving Fimbulwinter.
Alva: You can find her in Alfheim during the fourth chapter Groa's Secret.
Nidhogg: You can find it in Vanaheim during the sixth chapter The Reckoning.
For now, there are only 3 locations but we will update this list with more locations of Frozen Flames. Other than boss drops, you can also get Frozen Flame by collecting 6 Frozen Sparks. As you collect them all, here is the strength that increases with each level.
Level 1: Strength +10
Level 2: Strength +25
Level 3: Strength +40
Level 4: Strength +55
Level 5: Strength +70
Level 6: Strength +85
Level 7: Strength +100
Level 8: Strength +115
Level 9: Strength +130
How to Max Upgrade Leviathan Axe
You can max upgrade your Leviathan Axe when you reach level 9. To upgrade it this further you need to start completing favors, and side missions of the game. This is because the main story isn't enough for you to collect all the Frozen Flames in the game. Here are some mini-bosses from the side quests where you can find Frozen Flames:
Crimson Dread: This is a mini-boss drop. You can find this boss while doing the Favor For Vanaheim.
Sisters of Illska & Svipdagr the Cold: Another Frozen Flame dropped by a mini-boss. You can find them in Alfheim during the Favor Secret of the Sands.
Just like for the main story, we will add more side quests here when we come across them where you can get this material.
That covers this guide on how to Upgrade Leviathan Axe to Level 6 and max it out to Level 9. I suggest you also check our list of the best attachments for the Leviathan Axe. And to get help on other weapons in this game check out our GoW Ragnarok Wiki.