Sims 4 Growing Together: How To Build A Treehouse
Sims 4 just got a brand-new expansion pack last week. Fans of the 2014 game have grown in numbers with each passing year thanks to regular updates like these. The Growing Together expansion adds new content for kids and families to do in the game. One of the cool activities you can do now is to build a treehouse. Let's look at how to build a Treehouse in Sims 4 Growing Together.
How to Build Your Own Treehouse in Sims 4 Growing Together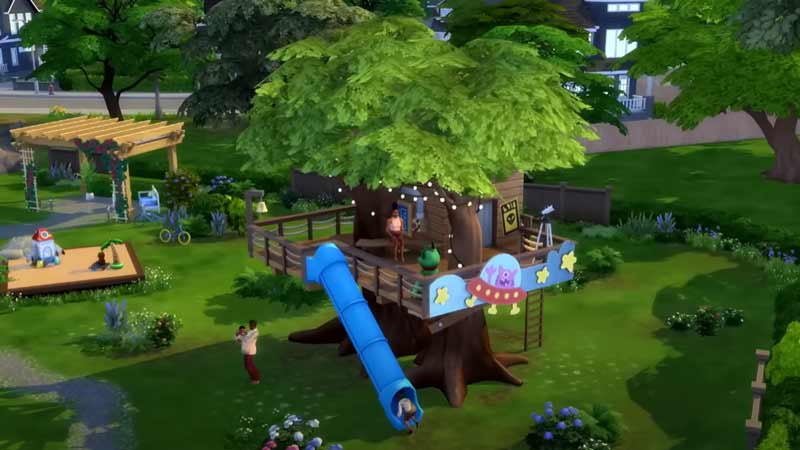 After years of players using tricks and glitches to build Treehouses, now you can simply get one. You can make these anywhere in your Sim world. Your Sim Family can use the attached ladder to enter and spend time with each other. You can also customize the look of your Treehouse, and add lights, bells, and other assortments. Here are the steps to build your own Treehouse.
Go to the Build menu and search for Treehouse.
Buy the structure for 1200 Simoleons.
After you buy the structure, the parts will be delivered to the tree in your backyard.
Click on the Build Treehouse option.
Now watch as your Sim Family get to work on your dream Treehouse.
Adults and kids both can start building the Treehouse. Kids will require adult supervision so we recommend starting the process with your Adult Sims. Once the Treehouse is up, you can use it to perform all kinds of activities. Spend some time with your friends and family or host a romantic dinner with your partner, all is now possible. You can also look up Placeable on Treehouse in the Build menu to add some furniture and other items to liven up the Treehouse.
That's all we have on how to build a Treehouse in Sims 4. For more guides like this check out our guide on the List of all infant quirks in Sim 4 Growing Expansion here on Gamer Tweak.