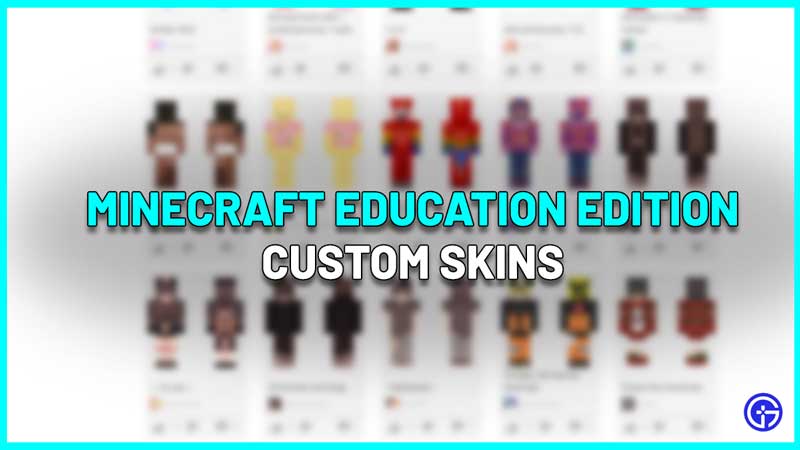 Minecraft Education Edition is a game-based learning platform for schools that will help students improve creativity, collaborative effort and problem-solving skills. It's a great way to engage kids and is widely used by educators around the world. One of the things to learn in this game is how to get custom skins in Minecraft Education Edition. Curious to know how to go about it? Here's how.
How to get Custom Skins in Minecraft Education Edition
To make custom skins in Minecraft Education Edition, you will need to head over to external websites that allow you to do the same. Skindex is a popular site where you can get ready-made custom skins as well as editable ones that you can tweak as per your liking. You can sort them by Top, Latest, Recent Commented and pick the one you prefer.
Here are some custom skins options you can use in Minecraft Education Edition:
Ninja
Venom
Fire Trader
Mage
Wizard
Doge
Cute Girl
Minecraft Steve Variants
and much more.
You will find cute, aesthetic, goth, funny Minecraft skins as well as some that closely resemble your favorite characters from other games such as Genshin Impact. So, go ahead and explore and see what you like! If you check the Skin Editor on Skindex, you will get various options to edit a selected skin to make it your own.
To add and use these custom Minecraft skins, you need to first make an MCPACK file which includes the main PNG image and the JSON files. But to create one, you will have to use third-party sites. If you are okay with that, then simply search 'Minecraft Education Edition skins pack creator' on Google and you will find the sites which will allow you to do the same. Once you have created the file, save it and then double click on it. This will launch Minecraft Education Edition and then you can bring in your custom skin in the game.
Is there an Official Way to Get Custom Player Skins?
Here's a post on educommunity.minecraft.net where a user requested the addition of skins that represent the diversity that is the playerbase of Minecraft. About 6 months ago, this was the update by the Community Manager of Minecraft EDU Team:
Good news everyone – we are moving the status of this request, "Custom Skins," to Planned! This means we are adding new skins and also starting the first steps of bringing Bedrock's Character Creator to EDU. What new skins do you think we should add?
So, yes, there will be custom player skins in the game but we're not sure (as of now) when they will be added. Let's wait for more official announcements regarding this.
Hopefully, that gives you the answers you are searching for. While you are here, don't forget to check out our guides on how to make a Balloon and how to make Latex as well.