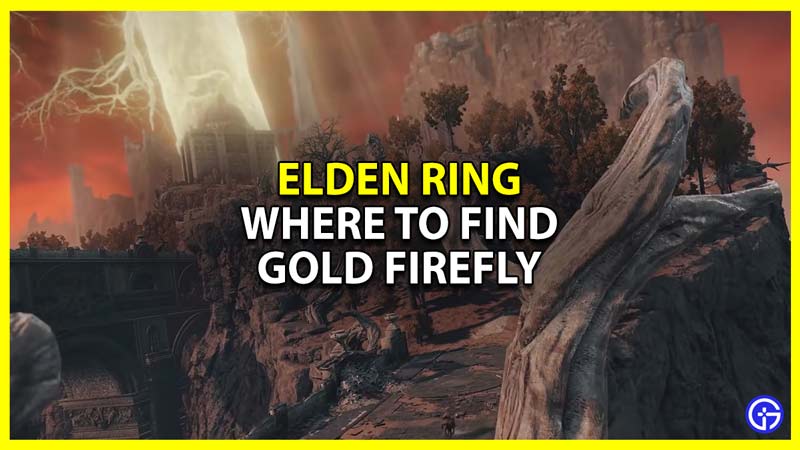 Gold Firefly is a type of resource that you can find throughout the Lands between in Elden Ring. As the name suggests it is a firefly that emits golden light. But other than just emitting light it serves another purpose. So in this guide let us quickly check where to find Golden Firefly in Elden Ring, learn its locations, and how to use them.
Where to Find Gold Firefly in Elden Ring?
As per the game's description, you can find Gold Firefly near water bodies that are close to Minor Erdtree. It is a type of resource that respawns once you rest at any site of grace. You can mostly get them at Weeping Peninsula, Limgrave, and Altus Plateau. And here are some of the specific farm locations.
South from Tombsward site of grace at Weeping Peninsula. There are 11 gold fireflies in this pond. Be wary of the Octopus that is here though.
Southeast from Mistwood Outskirts site of grace at Limgrave. You can get 9 gold fireflies here.
How to Use Gold Firefly
Since Gold Firefly is a crafting material, you can use it to craft Gold-Pickled Fowl Foot. Here is the recipe for it.
Gold Firefly: 1
Four-Toed Fowl Foot: 1
Rowa Fruit: 3
While these might be the ingredients required to craft it, you will also need the Missionary's Cookbook [2] before you can start crafting it. You can buy this from Patches at Murkwater cave once he is done setting up his shop. In case you accidentally killed Patches then you can give the bell dropped by him to the Twin Maiden Husks. Then you can buy this Cookbook from them instead.
That covers this guide on where to find Gold Firefly in Elden Ring, its Location & how to use it. Since you like playing this game be sure to check our other guides for it at our Elden Ring section.