Fix MW2 Matchmaking Lobby Error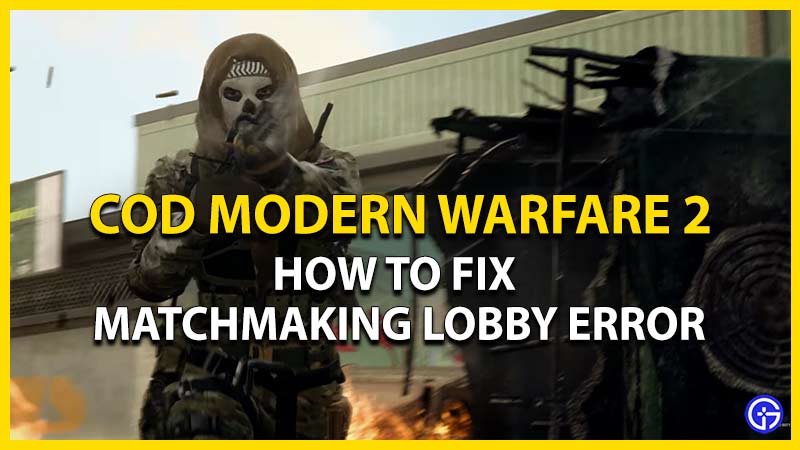 The recent release of the open beta of COD Modern Warfare 2 has several players excited and hyped to check it out. But that being said, the game is still in the beta phase and has several issues to work out. One of these issues includes finding a match in the lobby. As players wait to find matches in their lobbies, they are encountering an error. Due to this error, players are unable to play matches. Not to worry, here's our guide on how to fix the Matchmaking Lobby error in Modern Warfare 2.
How to Fix the Matchmaking Lobby Error in COD Modern Warfare 2
Here are the potential methods to resolve the Matchmaking Lobby error in Call Of Duty MW 2:
Restart COD Modern Warfare II
Firstly, exit COD MW 2 and then, launch it again.
Launch the game and select the "Find A Match" option.
If you are still unable to join a match, restart your console or PC.
Then, launch the game and try entering the match, again.
Use VPN
If the above method didn't work out for you, try enabling VPN.
Although using a VPN can cause high ping and lag, it might resolve this error.
As you switch servers, you might be able to join a server that is not busy.
Check your Servers
The matchmaking lobby error can occur due to server-related issues.
If the servers are down, you have no option other than to wait until the devs resolve the issue.
You can head over to Activision Support (link) to check the status of the servers.
The server outages also occur due to Downtime maintenance or other technical issues.
If your servers are up and running, you can try out our next method.
Reinstalling COD Modern Warfare 2
If none of the methods work out, we recommend reinstalling the game.
You need to uninstall COD MW II and then, install it back.
Then, launch the game and select the "Find a Match" option.
This method will hopefully resolve the issues and allow you to enter the match.
That's everything covered about how to fix the Matchmaking Lobby error in COD Modern Warfare 2. If you liked this guide, check out our other guides on how to fix the Required Network Service failed error, how to fix lagging issues, and more on our dedicated section for Call of Duty Modern Warfare 2 right here on Gamer Tweak.