Escape From Tarkov 2020 Customs Map Guide – Extraction Points, Keys, Boss Locations
Here's everything you need to know about Escape From Tarkov Customs Map.
Are you trying to learn Escape From Tarkov Customs map? If your answer is "YES" then you have come to the right place. In Escape From Tarkov Customs map guide, we will share in-depth information on the various key areas of the map such as Extraction Points, Boss Locations, Loots, etc.
Using the following information, you can easily plan your raid and make your way to the exit point to complete the challenge. However, before you barge into Escape From Tarkov Customs map, make sure you know what major locations you will have to enter or avoid.
To see Extraction Point press O twice and you will see the list of available extraction points in the game. Also, you will be facing Scav Boss Reshala in this area.
Escape From Tarkov Customs Map 2020
There are around twenty-two extraction points in Escape From Tarkov Customs Map 2020. This does sound like easy to reach them all, but it is necessary to know where are they located. So once you are done with your challenges you can head to the extraction point to complete your game. The above map screenshot shows all the exaction point click on the link to view a bigger version of the image.
Crossroads
Trailer Park
Trailer Park Worker's Shack
Railroad to Tarkov
Railroad to Port
Ruaf Roadblock
Warehouse 17
Smugglers Boat
Sniper Roadblock
Factory Shacks
Dorms V-EX
Old Road Gate
Warehouse 4
Old Gas Station
Railroad Military Base
Passage Between Rocks
ZB-1012
ZB-1011
Military Base CP
Scav Checkpoint
Administration Gate
Factory Far Corner.
Escape From Tarkov Customs Map Spawn
Your landing spot or spawn location is highly important because this is where you will decide where to go. Which are the nearby PMC Spawn, loot spots, bosses, etc. You can either spawn on the west or east of the map. These are two common corners of Customs Map, and from here you will begin your journey to complete challenges.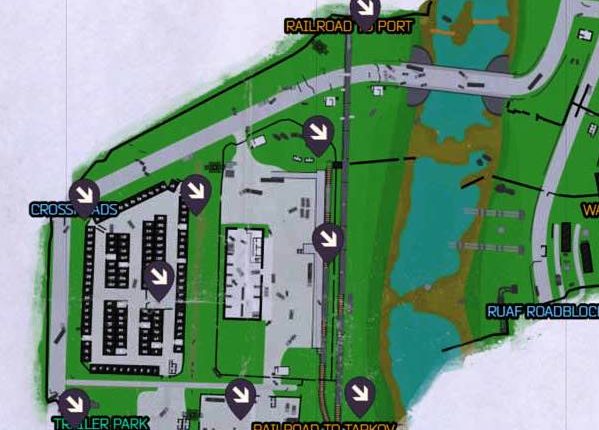 The above image shows Custom Maps West Spawn Locations. There are 10 Spawn points which are pretty far from the middle but not from the extraction points.
The above Custom Map Screenshot features the far east corner. Here there are more spawn locations at the south end corner, so if you are here plan your way well again it is another corner of the map. Travelling to the centre is a long journey.
Custom Map Boss Location
There are two spots in the Custom Map you will find bosses. You can plan your way depending on your load-out type. The bosses mostly sit in the centre area of the map. These two are the possible spawn location of Reshala. So if you are unable to find it one place you can travel to the second one.
Custom Map Sniper & Scavs Locations
Another important thing is knowing where are the Scav's and Snipers on Escape from Tarkov Customs Maps. These are the enemies you will have to watch out for. So when you are moving around beware about the snipers in your path.
With these there are still more to look on, the map is massive with tons of loots and chest. There are keys, safe and weapon box. You will find many things by exploring the region. If you want to know about Interchange Map then we also have a shot tip guide that will help you to find out major extraction points, boss lotions, etc.