The most powerful weapon is team, but it doesn't hurt to have the right tools for the job.
Call of Duty: Modern Warfare II will usher in a new era of the franchise on October 28 with an incredible amount of day-one content. That offering only gets bigger by pre-ordering the Call of Duty: Modern Warfare II – Vault Edition, a special version of the game that includes all standard pre-order bonuses, plus items for immediate use in Modern Warfare (2019), Vanguard, and Call of Duty: Warzone, a day-one Red Team 141 Operator Pack, as well as a Battle Pass and 50 Tier Skips for one season of Modern Warfare II. For more information on pre-order benefits, check out this blog HERE.
The Vault Edition also comes with a first-ever loadout item ready for a rebuilt and revamped Gunsmith:
The FJX Cinder Weapon Vault.
A Weapon Vault is the ultimate Weapon Blueprint: a variant of a weapon that keeps its cosmetic properties on all attachments native to its base platform.
And you can customize the FJX Cinder variant in Modern Warfare II… through a rebuilt Gunsmith.
Introducing the New Gunsmith
Created by Infinity Ward, the new Gunsmith revamps this vital Loadout creation tool from Modern Warfare (2019) for a more customisable way to build a weapon.
Based in part on learnings from the community, along with Infinity Ward's commitment to making a broader and more explorative weapon builder, this Gunsmith's features can be defined by five major bullet points:
Weapon Platforms. Grow and upgrade a weapon far beyond its class to truly customise your loadout. Evolve your weapon platform from an assault rifle to an SMG, DMR, and/or LMG by swapping Receivers on a specific platform, using a full suite of attachments to support your weapon's role.
Progression Overhaul. Thanks to Weapon Platforms and branching progression, attachments are shared within and between Weapon Platforms. Depending on the attachment, it is either unlocked for all weapons within a Platform, or unlocked for ALL weapons in the entire game. Expect reduced repetitiveness and reasonable challenges to unlock attachments and camouflage… And if you crave a journey towards Mastery, don't worry: we have that planned, too.
Weapon Tuning. Once you've unlocked all attachments on a Weapon Platform, edit each individual attachment via the Gunsmith to maximize its potential in combat. More intel to come at Call of Duty: Next.
Firing Range. Test your creation without sacrificing K/D within the Gunsmith. More intel to come at Call of Duty: Next.
Five Attachments. Yes, we listened. Not a bad fifth bullet point, right?
All these new Gunsmith features, and more, will make it easier for you to create a true extension of your personal playstyle while exploring each platform's strengths.
Weapon Platforms
Tempus Armament's M4, the first unlocked Weapon Platform in Modern Warfare II, shown within the in-game Gunsmith. All Tempus Armament attachments are shared between every weapon Receiver in its Platform: the M4, M16, 556 Icarus, FTAC Recon, and FSS Hurricane
For this pre-Beta breakdown, let's focus on Weapon Platforms.
Unlike previous years where every weapon is a separate family, Weapon Platforms streamlines progression and create attachment pools for easier swaps between playstyles via the Gunsmith. Although some Weapon Platforms still contain one weapon – the RPG-7 and Lockwood MK2 "cowboy rifle," for example – other, more modern Platforms can have three, four, or even five different weapons.
In Modern Warfare II, Operators will receive every base Weapon Platform from each manufacturer on their Military Rank (Rank 1 to 55) progression journey. The first weapon unlocked on a Weapon Platform will be known by its Receiver, the core of a weapon that determines its primary use and strengths.
For example: the above M4, the first unlocked Weapon Platform, is from Tempus Armaments and is classified as an Assault Rifle.
After selecting a Primary or Secondary Weapon and heading to the Gunsmith, you will see the "Receiver" attachment in addition to slots for Muzzles, Barrels, Magazines, and other parts you're already familiar with.
Here's how to swap Receivers in the Gunsmith, using the M4 and M16 as an example. Note how all attachments are retained despite this weapon switching to a completely new one.
Just like in previous games, levelling up a weapon unlocks attachments. In Modern Warfare II, these unlocks include Receivers.
Changing a weapon's Receiver completely alters what the weapon is; it's considered a "new" weapon when building a Loadout, but it still lives within the same Weapon Platform.
In the case of Tempus Armaments' M4 Weapon Platform, there are four Receivers in addition to the base M4: the M16, the 556 Icarus LMG, the FTac Racon Battle Rifle, and FSS Hurricane SMG.
Each new Receiver can be seen in its designated Weapon Categories in the Loadout Screen. However, while editing any weapon that is part of a larger Weapon Platform, you can simply swap Receivers in the Gunsmith.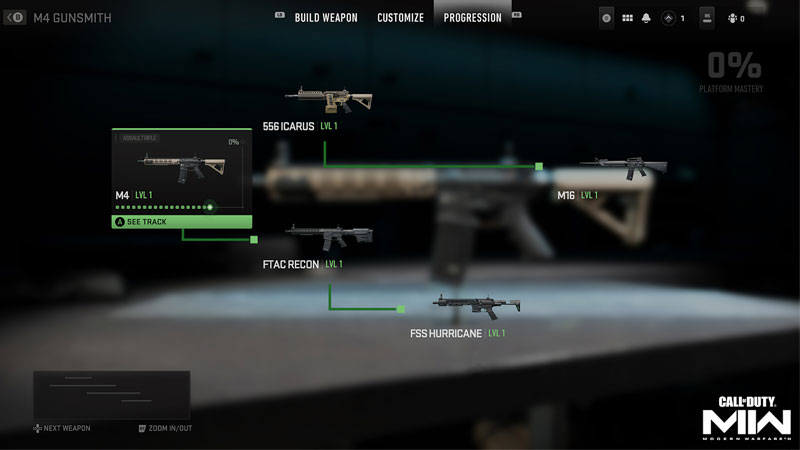 Tempus Armament's M4 Weapon Platform Progression map. By levelling up each Platform across each of its Receivers, you will unlock attachments that can be used across all weapons within the Platform, as well as attachments across ALL Platforms.
In levelling up a Weapon Platform, you unlock two types of attachments:
The first is for the specific Weapon Platform – Receivers, Barrels, Stocks, Rear Grips, and Magazines. These are sharable within the Platform across all Receivers.
The second are attachments that can be used across ALL weapons that are able to equip them. These are Optics, Ammunition, Underbarrels and Foregrips, and Muzzles. This allows you to collect an arsenal of attachments that only need to be unlocked once.
For example, let's punch into the M4's Progression track: at Weapon Level 1 and 2, you unlock the SZ Reflex Optic and the Echoline GS-X Suppressor Muzzle attachment.
Once these are unlocked, these attachments can be used across ANY weapon in the game.
So, there's no need to unlock the SZ Reflex Optic or Echoline GS-X Suppressor 40 different times – you only need to unlock them once through the M4 Progression track to make them available for all weapons in Modern Warfare. Is there another Optic or Muzzle attachment you like? It may be on a different weapon's Progression track – check around the Gunsmith, use that weapon to unlock them, then feel free to use it on your M4 or any other weapon.
Weapon Levels 3 and 4, meanwhile, contain attachment unlocks that are specific to this Weapon Platform: the 11.5" T-H4 Barrel and the 45-Round Mag. These Platform-specific attachments can be used across all weapons in the M4/Tempus Armaments Weapon Platform.
There is no need to re-unlock these kinds of attachments for each individual Weapon in the Platform, but different Weapon Platforms have their own Barrels and Magazines to unlock.
FJX Cinder Weapon Vault Overview
The FJX Cinder Weapon Vault, shown with different Receivers and attachments. Owning the Weapon Vault means having every attachment from an equivalent Weapon Platform ready to use and with the same sleek design.
This new Weapon Platform system shows the resourcefulness of Weapon Vaults, such as the FJX Cinder.
Think of the Weapon Vault as the Ultimate Weapon Blueprint: First of its kind and highly classified, the Weapon Vault instantly unlocks dozens of platform-native attachments from an alternate manufacturer.
A Weapon Vault allows for immediate customization with a collection of Receivers, Barrels, Stocks, Rear Grips, and Magazines. Other attachments – Optics, Ammunition, Under barrels and Foregrips, and Muzzles – can be outfitted to the FJX Cinder once they are unlocked normally.
All Weapon Vault attachments are hand-crafted with a specific cosmetic appearance in mind; Weapon Vaults are designed for those who care about appearance just as much as effectiveness, especially for a specific Weapon Platform.
In the case of the FJX Cinder Weapon Vault, consider it an aftermarket, bespoke, or rival version of our example Weapon Platform.
It's nearly the exact same Platform right down to camouflage unlocks, but with every attachment ready for immediate use with a red-and-black graphical design maintained no matter the configuration.
And did we mention those who preordered the Modern Warfare II Vault Edition can use the FJX Cinder, as well as all the Red Team 141 Operators, within the Modern Warfare II Open Beta?
The FJX Cinder is a strong introduction to the new Gunsmith you'll definitely want to experience when Vault Edition pre-order owners play the Beta on PlayStation 4 and PlayStation 5 starting on September 16, as well as when Modern Warfare II launches on October 28.
Remember to pre-order the Vault Edition of Call of Duty: Modern Warfare II to get your hands on the FJX Cinder during the Open Beta and on day one.
What's Next for Intel – Guides Return with the MWII Beta
Weapon Platforms and the new Gunsmith are just two of the dozens of new features in Modern Warfare II – and you will be well-prepared to explore them thanks to an unprecedented amount of official intel at your disposal:
We are excited to announce free and Official Guides for Modern Warfare II, covering the game in its entirety.
A prologue to this guide will be released on the same day as Call of Duty: Next, and will cover everything you need to know about the Modern Warfare II Beta.
For example: there's a dedicated chapter on the Weapons menu that expands on the above Gunsmith information and details the entire process of building a Multiplayer Loadout, including tactics for Equipment, Perks, Field Upgrades, and Meta-minded examples to try out.
All of this lives alongside a full breakdown of every Killstreak and Vehicle (including Customization) in the game within that Weapons menu… Which is just one aspect of this new and improved Official Guides for the next generation for Call of Duty.