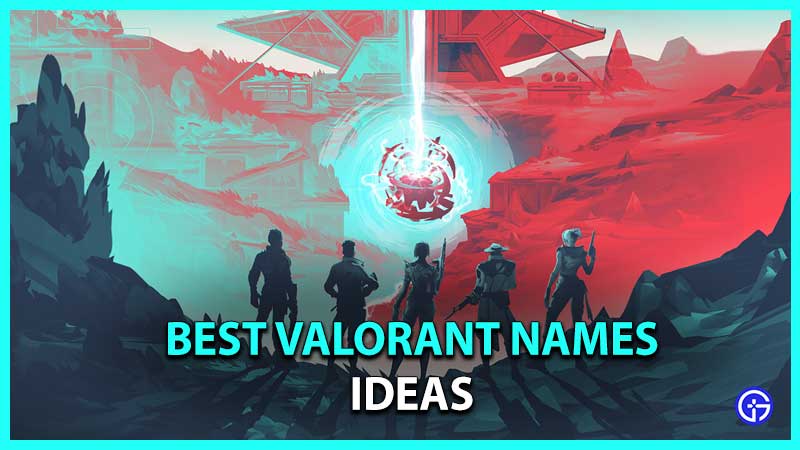 So, you want to start playing Valorant but wondering what nickname or username you should keep? This list will help you get some inspiration for your in-game name. This can also come in handy if you decide to change your Riot Games ID, so let's get right into it.
Best Valorant Names Ultimate List 2023
Here are some cool suggestions for your Riot ID or Valorant name that you can use if you are bored of your current username. Note that there's a 30-day period that comes after changing your IGN, after which you can change it again.
Funny Valorant Names
SpikeNoob
DontKillMe
HappyCamper
NoGoodName
GenZBoy
IAmDead
KillMePls
MatchBomber
BadAtThis
Lurker99
HelpMeGuys
LiarFire
Nightmarish
NoWsOnlyLs
BeatMePls
OnYourLeft
ReloadingWait
RespawnLord
DiesOften
DeadAgent
Cool & Unique Valorant Usernames
VenomousGhost
DeadlyVampire
DarkLord
DemonSlayer
Headshotz
EpicShooter
BountyHunter
DragonKnight
DaPunisher
PowerBrute
HackerSolo
SlyFox
Mobkilla
ClashKing
BulletMachine
FieryArrow
BadBoi
BulletProof
SuperNoob
PhantomPro
Nightwatcher
CombatRaider
DaTrickster
UnknownHero
DoomsdayGuy
CoreDamage
TheWarlord
HawkEyez
Valorant Names for Girls
BlazeQueen
IcyYuri
FiestySakura
HerMajesty
DaGoddess
VoodooDoll
BlckWidw
BeautyBomb
GoneRogue
Countess
Primadonna
Enchantress
FemmeFatale
MissTerror
TheVixen
PoizonIvy
WickedWitch
Anime Valorant Names
Here are some anime names that you can spin around to make your unique username in Valorant.
Haruto
Naruto
Takashi
Shinchan
Luffy
Levi
Ryu
Shinichi
Ash
Kuro
Astro
Toshiro
Yoshikazu
Shinobu
Etsuko
Tadashi
Hideaki
Hotaka
Jiro
Katsu
Raiden
Kazumi
Kiyoshi
Makoto
Michiaki
Nori
How to Change your Valorant Nickname?
Here are the simple steps to change your Riot ID/Valo Nickname:
Close the Valorant client first.
Log into your Riot account via the browser.
Find your Riot ID and type your new name.
Save and then launch the client.
I hope this list helped you create some good, funny, and unique Valo names to use in the game. While you are here, check out some Funny Among Us names, Sweaty Fortnite Names as well as the best Discord Names you can use.