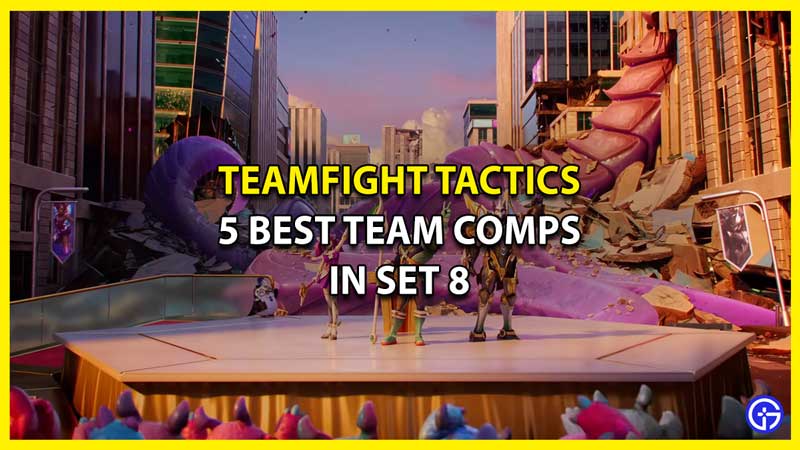 Teamfight Tactics has brought on quite new game mechanics with its new patch. That also includes new updates in the meta. Hence, players are looking for the best meta Team Comps in TFT Set 8. Since there are a few new meta, even players who have already played this will need some help. Though it is not quite that much of a change, team fight tactics like the game name need to be checked again. Since you are here, you are also looking for the best team Comps for Teamfight Tactics. You won't have to look further as this guide has all you need.
5 Best Team Comps To Use in TFT Set 8
While the playstyle is different for the classes, they can pool together and you can form great tactics out of it. Hence almost every class and character will be important. Since a balance between a good economy and rolling gold is quite important to win the game, we have based most of our teams on that. Here are the Best Team Comps in TFT Set 8.
Team 1
Here's the first meta team comp that we would use in Teamfight Tactics Set 8:
Ashe
Renekton
Yasuo
Ezreal
Lee Sin
Malphite
Gangplank
Team 2
Here is one of the best team compositions in TFT Set 8 that you can use:
Aphelios
Samira
Alistar
Ekko
Janna
Leona
Urgot
Zoe
Team 3 – Best TFT Set 8 Comps
Next up, these are another set of team comps that you should try:
Zed
Sejuani
Miss Fortune
Leona
Ekko
Zoe
Vi
Yasuo
Team 4
Here is one of the best team compositions in TFT Set 8 that you can use:
Miss Fortune
Sett
Leona
Ekko
Riven
Jinx
Rell
Wukong
Team 5
These are the last team comps in this Teamfight Tactics guide:
Viego
Aphelios
Ekko
Leona
Alistar
Zoe
Sivir
Talon
You can understand the team composition from the video below.
That's all there is on the 5 Best Team Comps in TFT Set 8. While you are here, make sure you check out our Guides section for more such content with Gamer Tweak.