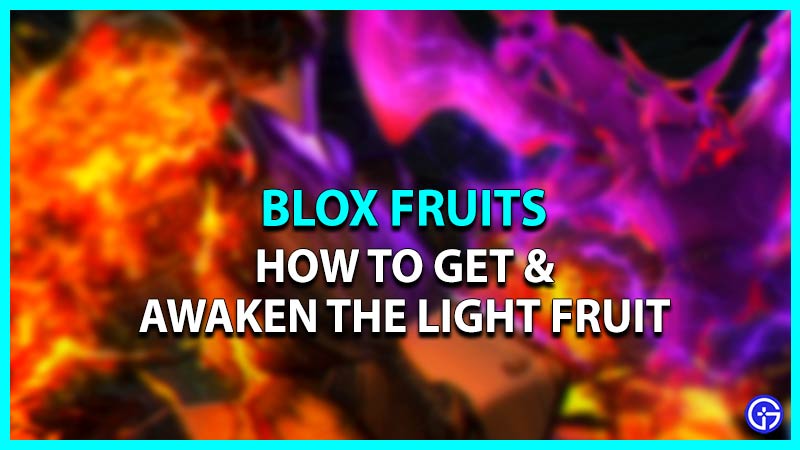 Blox Fruits is a Roblox game inspired by One Piece that enables the player to witness the adventures of Pirates. Master the ability of combat by using Swords and Guns. Apart from this, there are 9 Elemental Fruits in the game that allows the player to use their ability based on their properties. Smoke, Flame, Ice, Sand, Dark, Light, Magma, Rumble, and Dough are those 9 Elemental Fruits in this game. Although, today we are going to learn about the Light Fruits in detail. Further, to use optimize a Fruit to the fullest, you have to awaken them. Check out this guide that features steps to awaken the Light Fruit in Blox Fruits along with the abilities it provides.
How to Get & Awaken Light Fruit in Blox Fruits
In order to awaken a Fruit, you must own it first. For those who don't own a Light Fruit, just head over to the Blox Fruits Dealer who can be found in all the 3 Seas in the game. Thereafter, interact with him and purchase the Light Fruit for either 6,50,000x Beli or 1,100x Robux. In addition, Light Fruit can also be obtained from Blox Fruit Dealer's Cousin (Ciro) or found randomly under any tree in Blox Fruits. After you have obtained the Light Fruit, you'll need Fragments to awaken them.
Fragments in Blox Fruits can be acquired by completing Fruit Raids, defeating Sea Beasts, bosses, or by defeating a Youtuber Titled character. Later, you have to complete the Light Raid in order to get one step closer while awakening the Light Fruit. After completing the Light Raid, you will be teleported to a different location. Wherein you will encounter an unknown NPC who will help you to awaken the Light Fruit in Blox Fruits. You require a total of 14,500x Fragments in order to awaken it.
Speaking of the Passive Abilities that you unlock after awakening the Light Fruit, it includes:
Elemental Reflex – Remain unaffected by all incoming physical attacks. Except for the players who have Enhancement Haki or those who are on a much higher level.
Light Blade – Unlocks a Sword made up of Light that is strong enough to decimate Chop users without any effort.
That's everything you should know about the Light Fruit and how to awaken it in Blox Fruits. If you found this article helpful, then make sure to check out our other guide on Sword Tier List.