Xur has been a pivotal character in the lore of the Destiny games, he is the sole trader bringing in Exotic gears and weapons which help players increase their score and take on bigger missions and challenges.
Xur is a mysterious figure and not much is known about this particular NPC, while we only know what Xur brings some of the best gears and weapons, Destiny 2 has to offer.
XUR Location January 3, 2020
You will find Xur in IO, neat Giant's Scar, this may be a tricky location for some to get to but veteran players will know exactly how to get there.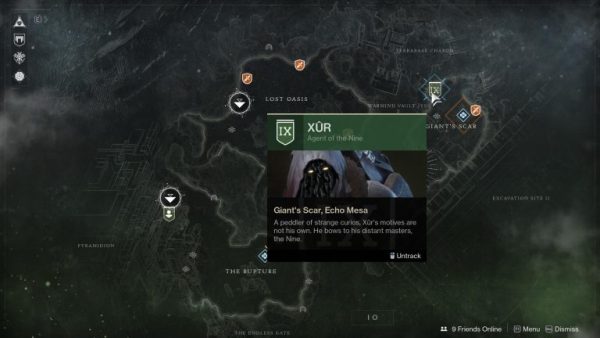 XUR'S INVENTORY January 3, 2020
Lord of Wolves – Shotgun – 29 Legendary Shards
 St0mp-EE5-Hunter Leg Armor – 23 Legendary Shards
 Dunemarchers- Titan Leg Armor – 23 Legendary Shards
Sanguine Alchemy – Warlock Chest Armor – 23 Legendary Shards
You can find Xur every Friday from 11 am PST, 2 pm EST, 6:00 pm BST and 7:00 pm CET in Destiny 2.
Who is Xur?
Xur is a vendor and an agent Agent of the Nine who brings in only the finest things Destiny 2 has to offer, he will sell you his items in exchange for Legendary Shards.
We will bring you Xur location every week and what he has to offer this week and will update this guide with more information.
It is important that you find Xur, if you wish to push your overall score and get some of the best gear and weapons Destiny 2 has to offer, at the same time you can check out other Destiny 2 guides right here at GamerTweak.
Check our other Destiny 2 Xur Location Guide, Tips, tricks and more.
Destiny 2 is developed by Bungie and is available for PC, Xbox One, and PS4.
Destiny 2 is free as of right now and you can purchase the Shadowkeep and the Season of the Dawn DLC if you wish, Destiny 2 is one of the biggest looter shooter games in recent history.